Coursework Writing Service
Our Coursework Writing Service can help you to develop a well-written, perfectly structured and flawlessly referenced piece of work, no matter what your requirements are.
It doesn't matter if you are a Saudi student currently studying overseas, or an international student studying in Saudi Arabia, we have experience in writing coursework for many educational systems around the world.
See for yourself
Samples

of our work

We have a number of sample papers to illustrate the quality of our services. Each sample has been written to a specific academic grade.

Samples of our work Sample coursework
Prices from
SR564.2
Undergraduate 2:2 • 1000 words • 7 day delivery
Place an order
Delivered on-time or your money back

Why choose our coursework writing service?
Writing a piece of coursework can be difficult, but we're here to help! We understand how tough it can be to turn all your reading into a structured piece of work, but our coursework service will help you get the grade you need - on time, every time.
If you've done an experiment and need help writing up the results, that's no problem! If you're writing a piece of coursework on a project that you've worked on, we can help with this, too! Nothing is too big or small for our experienced coursework writers.
Reasons to choose our service
We only allow our qualified academic writers with matching qualifications to take on your work.

Your order will go through rigorous quality controls and is checked against your instructions and academic standards by qualified professionals, we'll even give you a quality report to show our findings.

Your order will come with a comprehensive plagiarism report which is compiled with our state-of-the-art plagiarism software, ensuring the work that is produced is not plagiarised.

You get a 7 day amendment period, so if you're not happy with the work, let us know and our customer support teams will resolve any concerns.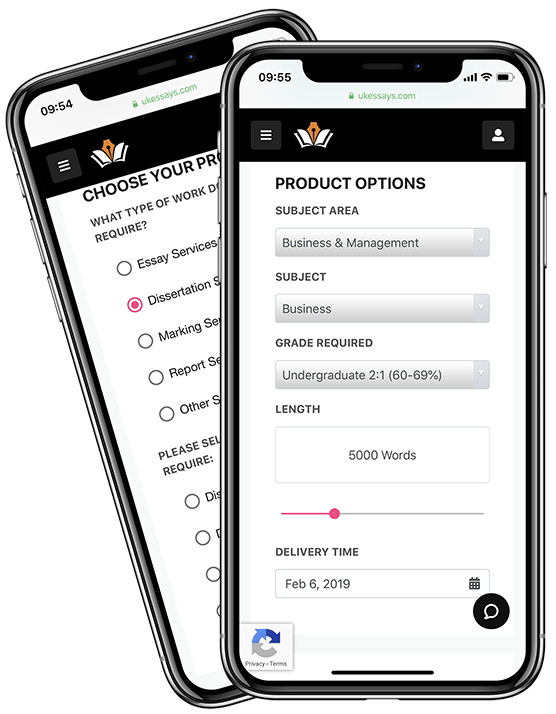 Our order process is simple

Three easy steps!
Start your UKEssays order

In the first part, we ask you about your order. This includes the grade you want, the word count, and when you need your coursework for, so make sure you give yourself some extra time to re-write the work!

Don't forget to tell us if you are studying in Saudi Arabia or if you are an international student studying at an overseas university, that way we can ensure the coursework is written specifically for that market.

Tell us all your requirements

Next, we ask for a few more details about your work. It's important that you give us as much information as possible, because this will help us to find the best writer for you, and get your work started as soon as possible! We ask you to send us any files that are relevant and any information about the topic.

An academic expert will start your order

Once you have entered all the information, our Customer Experience Team will confirm your order with you and check over the order details. You can pay now or later, but it's better to pay quickly because this allows us to find a writer and begin your order much faster. You can pay by credit/debit card, or by bank transfer. Our payment system is fully secure, and you will always receive a payment confirmation from us by email.
How to use our SA Coursework Writing Services
From the moment you place your order, we're here for you – our Customer Experience Team will help you with any questions you might have, and our Quality Control and Aftercare Teams will check over your order with a fine-tooth comb to make sure it matches all your requirements.
Read through the work
You should do this a few times so that you understand the most important parts of the coursework. Highlight key arguments and theories and make notes of any ideas that you might want to discuss, or any opinions that you might have developed from reading the work.
Be sure that you understand the content – if there's anything that confused you, you can always get in touch with our Aftercare Team for clarification.
Read through the literature
Before re-writing the coursework, take a look at the literature that our writer has used and make your own notes on these sources!
Write your own coursework
Use your notes, and the new knowledge that you have gained, to create your own coursework; when you're finished, you can compare your work to our writer's model answer to make sure that nothing has been copied and that you have cited all your references properly.
Once you have finished writing your full piece of work, you may want to get it checked over to make sure it meets the standard it needs to. To help you with this, we also offer a marking service to guide you further to the grade you want.
For more information on how to use the cousework as a model for your own piece of work, please refer to our Fair Use Policy.
Why you'll love UKEssays
These are just some of the great things that are waiting for you when you order with UKEssays.
Expert qualified writers
The writer that we assign to you is always qualified to write at the grade that you order.
We have a rigorous process to validate a writer's quality before they are allowed to help you: we check their identity and their qualifications carefully, and they must pass a 'test' essay and a probationary period before they're considered to help our customers. All our writers are experienced writing for Saudi students.
Uncompromising quality
We're honest with you throughout the order process, and we're always transparent with our pricing. Every piece of work has its own unique price, so you aren't paying for something that you aren't going to get!
Our prices reflect our quality of service you will receive. We only hire the best writers, and each one is tested regularly to make sure they continually produce the best quality essays, dissertations and reports. Our writers must have at least an undergraduate 2:1 qualification, but many of them have master's level or even PhD qualifications.
Outstanding customer support
We can help you with your coursework, no matter what grade you need, how long it is, or what the subject is. We want you to succeed: our team of professional writers come from every background, and our Quality Team will make sure that the work fits your exact instructions. We'll make sure that we put you first throughout every stage of your order, even offering an Aftercare service!
Safe & Trusted
You can have confidence that we're a secure service which will put your needs first. We take your privacy seriously, and you can read our Privacy Policy here, which is constantly updated. We're in line with all General Data Protection Regulations, and you can always ask our in-house GDPR officers if you have any questions. With us, your details are completely confidential.
Our Fair Use Policy
Our Fair Use Policy outlines the way in which the work we provide should be used and gives you the necessary guidance to get the most out of your model answer.
Read our Fair Use Policy
Don't just take our word for it!
We've served over 25,000 customers in our 18+ years as a company

I ordered a plan to help me with a difficult question I wasn't sure where to start. I used the plan to write my full essay and it worked great, gave me everything I needed to understand. Really good value.

Cho S
The writer followed my instructions perfectly and produced an excellent piece of work. I'm delighted with the results.

Oliver K
This is actually legitimate and not a scam. Used it multiple times.

David M
I'm very happy with your help! Would def. recommend it

Karin S
I am very happy with the service I receive and received from UKEssays.

James G
The project that I've ordered was done wonderfully and was exactly what I wanted and even more.

Melissa
About our company
We're a hardworking team based in Dubai serving customers in Saudi Arabia and internationally. We constantly update our quality and training procedures and strive for excellent customer service with every order, from start to finish. After you receive your piece of work, we always ask for feedback because we want to know how we can do even better.
Frequently asked questions
Related services
Maybe you've realised that you need a different type of work. That's great! We can help you with our essay writing service or report writing service. We can even check over work that you've already written and offer you detailed feedback with our marking service.
full service portfolio