Development of Coffee Shop Company
| | |
| --- | --- |
| ✅ Paper Type: Free Essay | ✅ Subject: Business |
| ✅ Wordcount: 1891 words | ✅ Published: 13th Sep 2017 |
EXECUTIVE SUMMARY     
Our Business idea which will offer a day- to-day importunity for living nearby coffee aberrant people, a spot to illusion of as you trial to stay away from daily strain of bio and just appropriate area to meet with your friend and do some gossips as well as to read a books as well. Owing to the demand of high-class epicure coffee and great service, Lava Java will subsidize on its closeness to the University of Ulster Campus to make a core group of iterate customers. Lava Java will offer its patrons the best ready coffee in the location that will be supplemented with pastries and sandwiches, as well as autonomous books that its customers read to delight their visit.
The company will handle a 2,500 square foot coffee bar within a walking distant from the University of Ulster Campus. The owners have also provided 150,000 of the necessitate 180,000 start-up budget. The stick around capital will be taken through the Bank of United kingdom for corporate loans.
The company is hoped to expand the sales revenue from £594,000 in FY2018 to £716,000 in year 2021. As Lava Java will attempt to maintain a 65% gross profit margin and inexpensive operating expenses, it will see net profits grow from 110,000 to 135,000 through the equal era.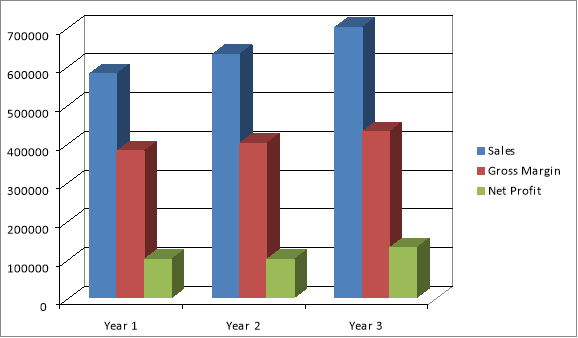 Lava Java objectives for the first year of operations are:
Become preferred as the "Most Modern Coffee Shop in the locality" by the venue restaurant attendant.
Twist in gains from the first month of business.
Conserve a 65% gross margin.
The keys to success will be:
Store design that will be both optical appealing to clientele, and designed for quick and fruitful operations.
Retainer practice to assure the great coffee preparation methodologies.
Marketing strategies direct to build a hard basis of steady punters, as well as maximizing the trade of high frame outputs, such as espresso drinks
Lava Java will create its great attempt to invoke a particular atmosphere where customers can associate with each other in a cozy and de-stress environment while relish the best fermented coffee or espresso and sandwiches or pastries in area. We will be in the operations of serving our patrons to alleviate their day-to-day pressure by providing a piece of mind with great ambiance, suitable venue, amicable customer service, and commodities which are compatibly in high quality.
COMPANY SUMMARY
Lava Java, a London Limited Liability Company, deal with coffee, other drinkable and snacks in its 2,500 square feet precious coffee bar located near the University of Ulster. Lava Java's significant investors are Harpreet Kaur, Tao Bo and Benjamin Garibaldi who accretive own over 70% of the company. The start-up destruction of the company is supposed to be the amount of £37,680.
Lava Java is registered as a Limited Liability corporation in the London. Harpreet kaur has 51% of the company shares and her friends, Tao Bo as well as Benjamin Garibaldi and other investors hang on to minimum shares in Lava Java, LLC.
The start-up expenditure involves:
Lawful expenses for acquire licenses and permits and the accounting services totaling £1,500.
Marketing upgrading expenses for the lavish opening of Lava Java in the amount of £3,700.
Consultant's fees of £3,300 paid to the their Services for bear a hand with situate the coffee shop.
Insurance coverage total of £2,700.
Advance paid rent for one month at £1.79 per square feet in the total amount of £4,700.
Assumptions of makeover in the amount of £13,000.
Other start-up outlay including stationery (£700), phone and utility deposits (£2,800).
The required start-up assets of £152,300 include:
Operating capital in the amount of £68,000 which includes jobholder and owner's salaries of £24,900 for the first two months and cash retain for the first three months of business (approximately£16,400 per month).
Start-up cost of stocks of £17,000 which includes:
Coffee beans (10 regular brands and five decaffeinated brands) – £5,000
Coffee filters, salads, sandwiches, tea, beverages, etc. – £8,900
Vend fit out (napkins, coffee bags, etc.) – £1,840
Office supplies – £287
Equipment for the total amount of £49,170:
Espresso machine – £5,000
Coffee maker and grinder – £1000
Food service apparatus (microwave, refrigerator, blender, etc.) – £19,000
Storage hardware (bins, shelves, food case) – £2,720
Counter area equipment (counter top, sink, ice machine, etc.) – £8,500
Serving area stuff (plates, glasses, flatware) – £2,000
Store material (cash register, ventilation, signage) – £12,750
Office equipment (PC, phone, furniture, file cabinets) – £2,600
Other varied expenses – £600
Budget of the company comes from two major sources – owners' investors and bank loans. Three major owners, Harpreet Kaur, Tao Bo and Benjiam Garibaldi have contributed £50,000, £40,000 and £30,000 respectively. All other investors have contributed £30,000, which bring the total amount of investments to £150,000. The left amount of £40,000 want to take over the start-up expenditure and resources came from the two bank loans – a one-year loan in the amount of £15,000 and a long-term (five years) loan of £25,000. Both loans were assured through the Bank of United Kingdom. Thus, absolute start-up loss is beared in the amount of £27,680.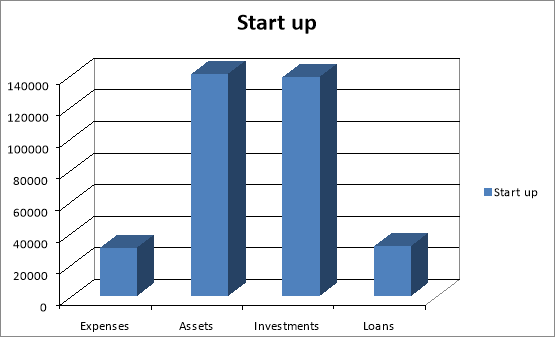 Part I – Evaluation of Coffee Shop (Lava Java) idea development
Entrepreneurial Team
Lava Java is an idea created by:
Product and its Description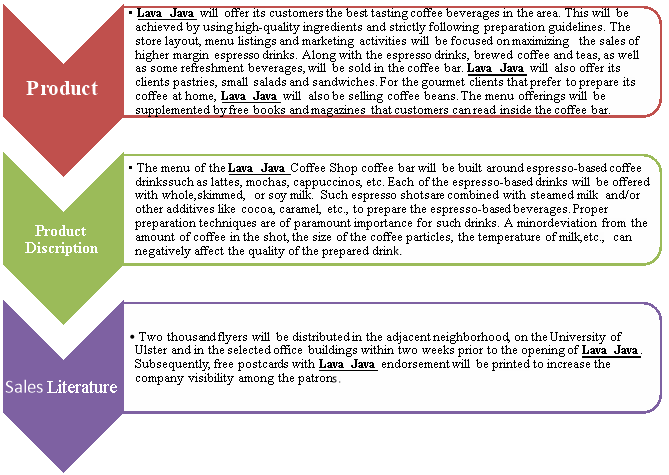 Market Assessment
Similar to traditional marketing, the breakdown and estimate of the extrinsic and intrinsic environment is a conform issue for decide the feasibility of Lava Java (coffee shop) within the existing market (Kotler and Armstrong, 2015), as well as forecasting the market trends and demand. By assessing the market from a conventional marketing perspective, the entrepreneurial team might be able to learn from the environment, analyze and discover opportunities derived from existing products, competitors and customer's trends (Morris et al., 2013)
PESTEL ANALYSIS
The PESTEL refers to the six factors that are believed to have a significant impact upon the macro environment of a business; it is thought to have been developed from initial proposals of Aguilar (1967). Expanding the letters of this structure gives us political, economic, social, technological, environmental and legal as our six determining factors, although not all of them will have a decisive impact on every industry.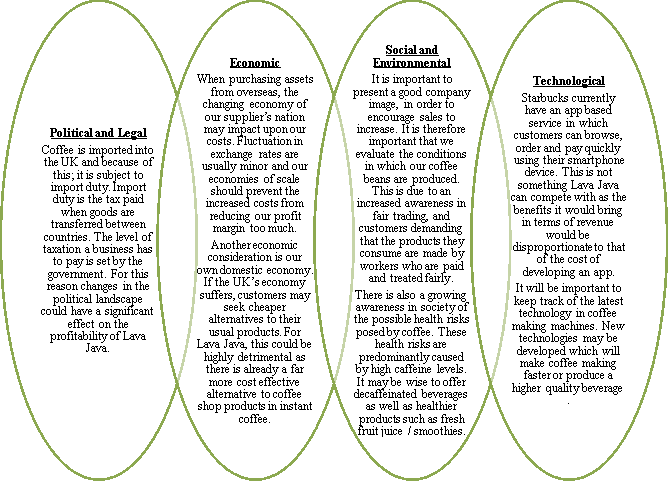 SWOT ANALYSIS
A SWOT analysis aims to identify the internal strengths and weaknesses along with the external opportunities and threats.


COMPETITION ANALYSIS
Porter's Five Forces
The five forces model proposed by Porter (1980) identifies the five main threats within any industry. As a general rule, the higher the combined threat of these forces, the less attractive a particular market is to operate in. This serves as a useful tool in analyzing a business' microenvironment.
Threat of New Entrants High
It is almost certain that new coffee shops will open to compete with Lava Java, given that Allegra (2016) predicts that the coffee shop market in the UK will exceed 30,000 outlets by 2025. However, while there is a risk that this rise could see the market reach saturation point, there is still a significant demand for coffee in the UK with an estimated 20 billion cups consumed per year (British Coffee Association, 2017) with 2.2 billion of these sold in coffee shops (Allegra, 2016).
While there is a high probability that competition will consistently increase over the coming years, they do not pose a significant threat to Lava Java because of the high level of demand.
Threat of Substitute Products or Services Medium
Substitute products already have a big presence in the UK coffee market with 80% of coffee drinkers regularly purchasing instant coffee and 16% of young adults buying coffee pods or ground coffee (British Coffee Association, 2017).
While home consumption may be cheaper long term than buying from a coffee shop, many consumers still do because coffee shops are convenient to use and consumers will not always have quick access to their own coffee making facilities. Ultimately coffee shops and coffee products for home consumption are not in direct competition with each other and it is unlikely that minor changes in either market would have a significant impact on the other.
Bargaining Power of Customers Medium
With so many options for customers to choose from, approximately 16,500 (Young, 2014), they will have a high amount of power when it comes to choosing between Lava Java and a competing shop. Despite this, coffee is a low cost everyday product that a lot of customers would not even consider the price of. Most coffee shops would offer similar prices meaning that customers will have many alternatives but very few cheaper alternatives, with standard high street prices ranging from £1.85 – £2.10 (London Toolkit, 2017).
Cite This Work
To export a reference to this article please select a referencing stye below:
Reference Copied to Clipboard.
Reference Copied to Clipboard.
Reference Copied to Clipboard.
Reference Copied to Clipboard.
Reference Copied to Clipboard.
Reference Copied to Clipboard.
Reference Copied to Clipboard.
DMCA / Removal Request
If you are the original writer of this essay and no longer wish to have your work published on UKEssays.com then please: